Within two days, I am also done reading Karan Bajaj's 2nd and the last book- Johnny Gone Down. After reading the Keep of the Grass, i was so excited that I just wanted to complete this one. Though I didn't start this immediately. Normally, reading the same author again and again frustrates after a time being hence I read some other novel and then directly headed towards this one. And this break paid off well. I, again, enjoyed Karan Bajaj's writing style and creativity. Undoubtedly, he is the best author whom Indian readers would love to read. The international style that he has adopted does well with the Harper Collins as a publisher. Nice combination! This book released in 2010 after his first novel in 2008 and its 3 years since then, Karan Bajaj has still not come up with the 3rd novel. As he said in an interview, he didn't want to hurry because he'll end up writing the same ideas again and again. Hence I am okay with waiting because I know whenever he'll come, it would be a new stuff. :-)
Karan Bajaj is the author of Keep Off the Grass, which has been on bestseller lists in India since its release in 2008. The book was a semifinalist for the Amazon Breakthrough Novel Award and was shortlisted for the Indiaplaza Golden Quill Award, among other honours. Johnny Gone Down is his second novel. Born in 1979 into an Army family, Karan studied in various schools in New Delhi, Shimla, Lucknow, Jabalpur, Assam, Ranchi and Bangalore and regards his interest in backpacking and travel as key writing inspirations. Besides writing, he pursues his Brand Management career with Kraft Foods, New York on the side and was named a 'Top 40 under 40 US Marketer' by Advertising Age in 2007.
About the Book :
Nikhil Arya has fallen.
Once, he was an Ivy League scholar with a promising future at NASA; now, at forty, he is broke, homeless,and minutes away from blowing his brains out in a diabolical modern-day joust.
It wasn't meant to be this way.An innocent vacation turned into an epic intercontinental journey that saw Nikhil become first a genocide survivor, then a Buddhist monk, a drug lord, a homeless accountant, a software mogul and a deadly game fighter. Now, twenty years later, Nikhil aka Johnny is tired of running. With the Colombian mafia on his trail
and his abandoned wife and son ten thousand miles away, he prepares for his final act, aware that he will have lost even if he wins.
Or will he? Is there any greater victory than living a life that knows no limits, a world that has seen no boundaries?
From the bestselling author of Keep Off the Grass comes the once-in-a-lifetime story of an ordinary man fighting an extraordinary destiny. Can he pick up the pieces one last time or will Nikhil, now Johnny, go down for good?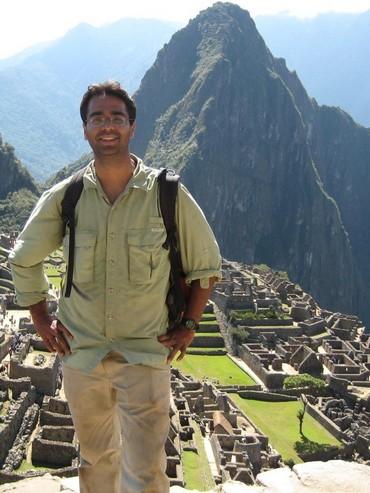 Coming to the review:- Yes, as I have said, Karan Bajaj has an international touch in his writing style which gives the whole new dimension to his stories. This story is again a very different tale than what I have been reading by Indian writers from a long time. Its kind of a story of a hippie which makes us know about the different segment of life that he has touched. The incarnation of the same person as a genocide survivor, then a Buddhist Monk,
a drug lord, a homeless accountant, a software mogul and a deadly game fighter is as nourishing as reading many stories in a book. Though I felt that story was kept short to give space to all this segment of the life of the protagonist but its fine as extending this book would not have done justice with the work.
The only problem that I felt was of the difficult names of the location that author has used. But still there are many incidents in the book which will take you to some another world and its good how author has ended the story in the climax. It teacher us about life. And yes, I did feel that author used the same ideas as he has in his first book and hence I am happy that he is taking time for writing the third one. :-) In all I would give this book 3.9/5. This book has to be read. Please don't miss it.
Thanks.