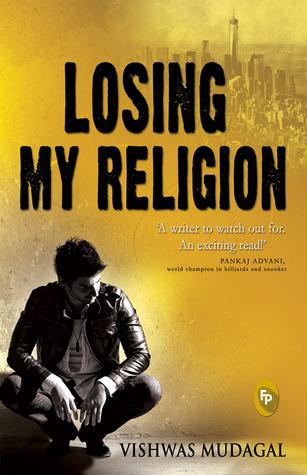 This is the 2nd book by FingerPrint Publication that I have just finished. First being "The Exiled Prince". I have always known FingerPrint for publishing some great books that keeps their readers hooked up with it. Ask me and I would say that I have started expecting more mind-blowing books from them in near future. It has become one of my favorite publishers now because of their quality, co-operation they show with authors and readers, both, and their selection of stories. I have finished this 350-pages novel "Losing My Religion" by the debutante author- Vishwas Mudagal who has taken approximate 5 years in writing this book getting inspired by his own life and one of his friend's. The cover page of the book is very soothing and calm. It makes you pick it up and at least have a look at the bookstore. A very good feel is been given itself with the cover pages, the title of the book and the synopsis.
Coming to the author, Vishwas Mudagal, I would say he is someone who will get into the big leagues very soon. His writing has the potential of being the favorite of readers for a very long time. This is why I suggest him not to take 5 years to write his 2nd book like the first as audience also tends to forget their favorite authors very soon. :-) He does not add much humour into his book with dialogues but with incidents and happenings which takes place in his protagonists' life. Even if a character plays a very small role in his story, he makes sure that the reader will remember it whenever the book "Losing My Religion" will come into his mind. Even when the book is thicker than the usual books published in this genre in India, it has the eligibility and content to hold reader for each and every page that has been added in narrating the story. That's Vishwas Mudagal for you!
Coming to the book- Losing My Religion is surely in my favorite books of this year for sure. It has everything that I look forward in a book. It contains all the factors that a youth faces in his life yet it is build up so excitingly that it looks like Zindagi Na Milegi Dobara or Dil Chahta Hai in book form. Rishi's character since starting has that niche where you feel he is choosing the wrong path but ends up showing the hidden way of success through the risky decisions too. Alex's presence in the book makes it the book that it is. The challenging and never-quit attitude that has been portrayed through his character builds Rishi's character at times. The late entry of Kyra in the story makes you believe that it's for the glamour and intense scene quotient in the book but its more to that. It shows what today's woman is made up of. Though she is shown as a foreigner but that's what our girls in India has also started becoming into- A Brave, Pragmatic and Independent Women.
I loved the beginning when Rishi's attitude is shown through his conversation with his two long-time friends. The favorite part of the book comes just after that when the Malana incident takes place. The kind of adventure both the characters have to go through there is the best part in the book which will make you excited to complete the book in a go. Book actually becomes a Page-turner from there. Later on, the Casino experience and the entrance of Kyra in the book makes it exciting from being adventurous. Even the intimate scenes are written very well- Quite charging I would say. Haha! The whole idea of initiating a shack there by the duo- Rishi and Alex is chilling. Till then I wanted to stop reading the book, pack my bag and go for a long journey somewhere. That's what book does to you in first half. Then I loved the narration of the scene at Haridwar when Rishi meets Kyra again. These are my favorite parts in the book.
Coming to the drawbacks- I wanted the reality show thing to be little short. It wasn't very exciting all the time except the climax and few sequences where Wolf challenged them initially. Also the book became predictable since that scene came in. I felt as if Haridwar sequence wasn't given much depth the way all the other parts are been treated in the book. I also didn't acknowledge the idea of funding Malana for good by Rishi and Alex. No mention of Rishi's pre-Alex life, friends and job is something I missed throughout the book. Rest, I enjoyed the book very much. The relationship of Rishi and Kyra is explained with maturity. It's quite evedent that Vishwas Mudagal has researched well about all the places he has mentioned in the book. In all, I would say a perfect book to read. I give it 4.75 out of 5. I loved it!!!
<iframe src="http://www.flipkart.com/affiliate/displayWidget?affrid=WRID-139713080470376508" style="width:120px;height:240px;" scrolling="no" marginwidth="0" marginheight="0" frameborder="0" ></iframe>
Thanks a lot.